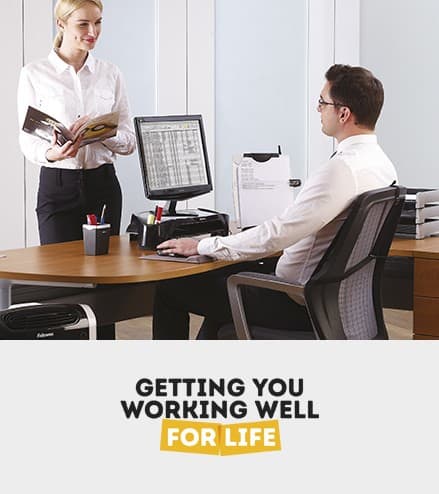 Working Ergonomically is Working Well for
Life
Poor posture when using computers, laptops and tablets is one of the biggest causes of neck and back pain, and it's having a serious affect on productivity at work and on personal life in general.
People who experience pain or discomfort are unlikely to perform to their full potential, and this often leads to sickness absence – and, in some cases, long-term injuries and disabilities.
Research undertaken by ergonomic workstation specialists Fellowes reveals that 79% of us admit to slouching at a desk1. Add to the fact that most people spend over 7 hours a day sat at a desk2 and you begin to realise the full extent of the problem.
At Viking Direct, Fellowes offers a comprehensive range of head to toe ergonomic solutions - from FIRA accredited monitor and laptop risers, back supports and foot supports, to wrist supports with Microban® antibacterial protection. NEW for 2017, Fellowes introduces movement to your working day with a new range of Sit-Stand Workstation solutions, helping you to be active, focused and energised.

FIRA International is an Independent Ergonomic Consultancy. Products with this logo are accredited to EU Health and Safety Legislation: BS EN ISO9241/1995/Part 5; EC Directive 90/270 EEC and amends 2002.

Look for the Microban® logo for products which contain Microban® antimicrobial technology for powerful, continuous product protection against bacteria.
Take the Fellowes 4 Zone Approach® to healthier working
To make it easier for you to choose the right ergonomic solutions for you and the way you work, Fellowes has developed the 4 Zone Approach® to healthier working.
In four simple stages you can identify the most common bad habits, the potential risks and the most effective solutions for workstation-related pain and injuries – wherever working is taking place.
By adopting good posture and ensuring your eyes, neck, back and legs are positioned correctly, you will discover a world of difference to the way you feel, both physically and mentally. This in turn ensures that you are much more engaged, motivated and productive.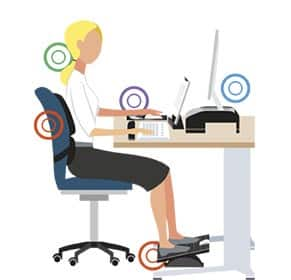 Ergonomic Solutions
for wherever you work...
Ergonomics is good for

business

by helping to:
Increase productivity
Improve morale
Reduce health issues such as repetitive stress injuries, back and neck strain, eye strain, muscular pains and headaches
77%
of workers believe companies with strong health and wellbeing ethics attract the best staff1
How well is your


team

working?
Fellowes and Viking Direct have joined forces to offer free Working Well Days to help businesses look after the health and wellbeing of their staff - and to reduce sickness days. If you're interested in this free service, please click here to request further details.
85%
of employees believe workplace health and wellbeing should be more of a priority in their company1
How well are


you

working?
It's a legal requirement for all businesses to undertake regular workstation risk assessments to ensure its employees are working in safety and comfort. You can find out how well you are working right now by taking a Fellowes Working Well Assessment right here
FREE
working well assessment
Ergonomics is good
for

personal life,


helping you to:
Keep fit for sports and hobbies
Stay healthy for family activities
Feeling great in everything you do
93%
of us agree that being comfortable when working improves our quality of life1
1. Loudhouse Research commissioned by Fellowes, 2016, 2. Arkenford Research commissioned by Fellowes, 2014