How can I redeem my voucher?
Redeem your voucher code in 3 easy steps in your shopping cart.
A voucher code is linked to your customer number. To use your code you must be logged in.
Step 1.
Click in the upper right corner of the web page on Cart.

Step 2.
Click on "Enter a voucher code" option and enter the voucher code exactly as it appears.



Then click "Apply".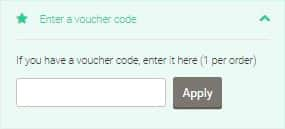 Step 3.
You should then see the message "Your voucher code has been accepted" if you met the requirements and conditions.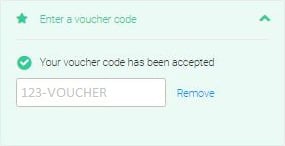 ---
My voucher does not work, what should I do?
When something has gone wrong, you will receive the following message: "Unfortunately this is not a valid voucher"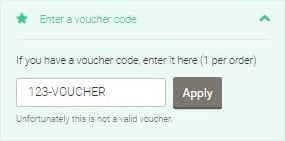 .
Please check whether the code has been entered exactly as the promotion indicates
Use of the minus sign (-)
No spaces
Use of zero or "O". When in doubt, you try both.
See if you meet the conditions of the discount code such as:
Minimum order amount
Expiration date
Vouchers cannot be redeemed against stamps, prepaid letters Apple® products, personalized items, hampers, and gift cards.
Up to 1 discount code per order.
---
Please pay attention to the following:
A discount code is tied to a specific promotion. Specific conditions apply to each promotion. Therefore read the conditions of your code carefully.
If a problem still persists, please contact our customer service via Live chat.
It is not possible to redeem the discount code after the order has been completed.
For the general contractual conditions of voucher codes, we would like to refer you to the following page: voucher terms & conditions.