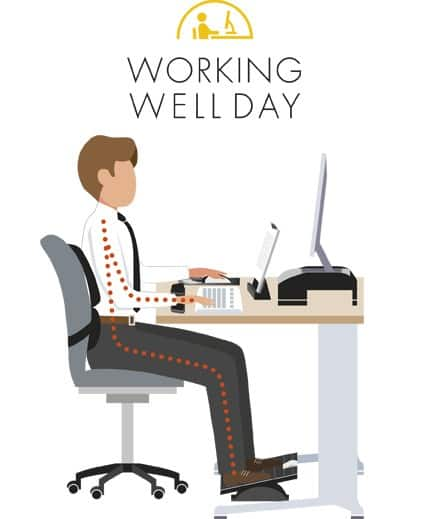 How To Get Working Well For Life
In One Day
Bad working habits are bad for business. And as 90% of all company costs are people costs, it's essential you look after your greatest asset - your employees.
Ensure your employees are working well for life by arranging a Working Well Day with Viking Direct and Fellowes – the ergonomic specialists.
The event will be run by a DSE trained assessor who will be available to undertake FREE and qualified Workstation Risk Assessments for you and your staff – in accordance with the legal requirement outlined in the EC Directive 90/270/EEC.
As the day will be professionally organised by us, all you'll need to do is confirm a suitable date for your Working Well Day and reserve a suitable
Meeting room
Spare office
Area within staff cafeteria
We will then provide you with posters and e-mails to promote the Working Well Day to your staff.
Example Itinerary of a
Working Well Day
Demonstration of Workstation Risk Assessments undertaken by a DSE Qualified Assessor
The 4-Zone Approach to the Complete Workstation Solution
The Pro-Active Prevention Plan
Workplace Diagnosis Charts
Fact File on Health and Wellbeing in the Workplace – and its Impact on business
Products showcase featuring the latest ergonomic solutions
FREE information leaflets, posters and videos
Be Healthy.
Be Legal.
It's the employer's legal obligation (EU Directive 90/270/EEC) to organise annual Workstation Risk Assessments to ensure their employees are working safely and comfortably, whatever their location.
A Working Well Day is free, informative, and fun for all employees. It will ensure you are abiding by the law and helping your staff to change bad working habits that are affecting their health and productivity.
Let's get a date
in the diary...
To arrange your Working Well Day, simply click here to email us.
If you're unable to hold a Working Well Day,
here's the next best thing...
A Working Well Day is by far the best way to engage your staff with good ergonomics, but if the organisation of one at your premises proves difficult you can still request a FREE Working Well Pack to help you promote the importance of ergonomics in your workplace.
The pack includes a range of FREE posters, leaflets, fact files and other useful tools to help you change the way you work - for the better! All of these have been specifically designed to clearly show you real solutions to bad working habits – and how you can adapt a Working Well policy to improve the health and productivity of your employees. The sooner you start promoting ergonomics in your workplace, the sooner you will start working well for life.
Click here
to request your FREE pack