Create the ultimate gaming setup
Looking for gaming station ideas? We've created a handy three point strategy for creating the ultimate gaming station. From the basics to maintenance and accessories, we have you covered!
Like a house, every good gaming station starts with a solid foundation. In this case, the foundations of a gaming setup consists of dedicated space, furniture, and the gaming device itself. Without these aspects, your setup can't get going!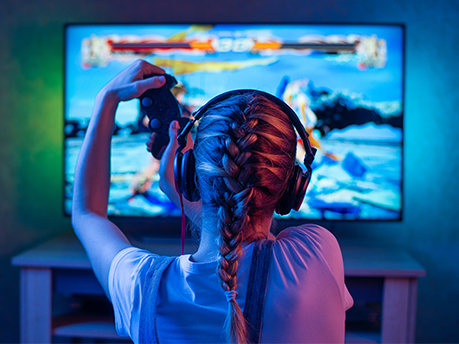 Dedicated Space
Gaming on the sofa is a great way to play with friends or for short, casual sessions after work. However, the more passionate gamer may want to consider dedicating a space to gaming, perhaps in a spare room or office, especially if your goal is to stream or play professionally!
Dedicating a space is also a great way to set yourself time limits and boundaries – it also allows you to install ergonomic furniture, avoiding strain and fatigue. If you share a space with a partner or friend, gaming in a dedicated space also prevents disagreements over using a communal or shared area, such as a living room!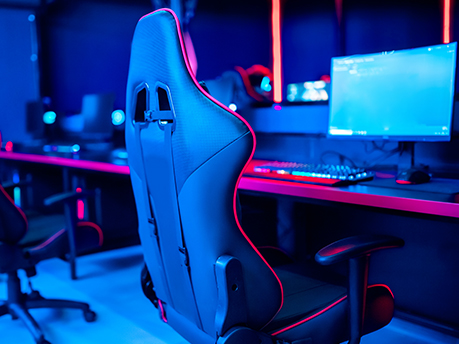 Furniture
Whether gaming on a console or PC, furniture is essential for storing, supporting and displaying your gaming setup! Gaming desks are designed to store spare cables and accessories, and to keep plugs, adapters and hard drives discreet. They also provide a solid platform for a gaming monitor and your gaming device of choice.
Mounting your device on a desktop can help to keep it cool during use. Choosing the right chair is essential for being comfortable and healthy whilst gaming. Ergonomic features can avoid back strain or neck injury, and help to create a professional setup for streaming or video chats! Also consider additional furniture, such as ergonomic foot stalls or lights.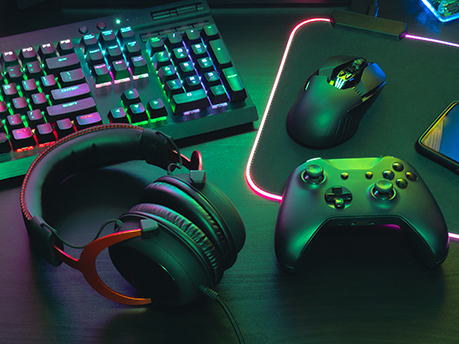 Gaming Devices & Hardware
A gaming station wouldn't be a proper setup without a gaming device! Whether you choose to game on PC or console, purchasing and installing a device is often the first piece of the puzzle to be completed by any eager gamer.
Consoles offer a more self-contained and "plug and play" experience. Often bundled with accessories such as controllers, headsets and cables, game consoles are perfect for casual and passionate gamers alike.
PC's offer the opportunity to customise and upgrade your gaming hardware to your specific requirements. Components such as graphics cards, processors, memory and cooling features can be upgraded and swapped out, depending on budget, giving PC gamers ultimate control over the performance of their device!
Once you have the basics together, it's time to branch out with accessories that enhance and elevate your gaming experience! These can be anything from audio peripherals and lights, to ergonomic pads and upgraded controllers and keyboards.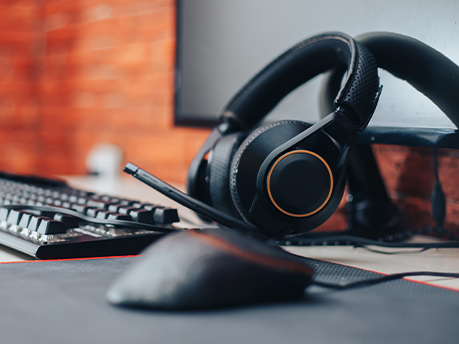 Audio Peripherals
Good audio adds a whole new element to your immersion into a video game or story. Whilst most monitors or television's feature inbuilt speakers, upgrading your audio system is a great way to enhance your enjoyment of the latest game or blockbuster!
Most gamers choose to use headphones and gaming headsets. These are a great optional accessory for several reasons. They add a level of immersion that speaker systems can't match, they allow you to
play without disturbing others, and they almost always feature inbuilt microphones, allowing you to interact with your team, friends and fans whilst gaming!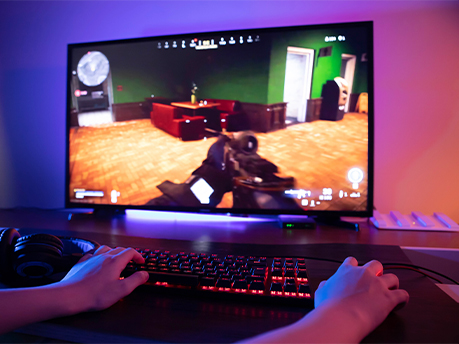 Lighting
As with audio, lighting can perform a multitude of roles when putting together the ultimate gaming station. Adding smart lightbulbs that allow you to change colour settings can be great for avoiding eye strain or creating backdrops for streaming. They also can be used to increase immersion, darkening the room or lightening it depending on the style of gaming you are playing.
Desktop lights and freestanding lamps are a great way to light your space without the sometimes harsh light from a ceiling light or lamp. For the ultimate in personalisation, you could also consider attaching lights to your desk or monitor!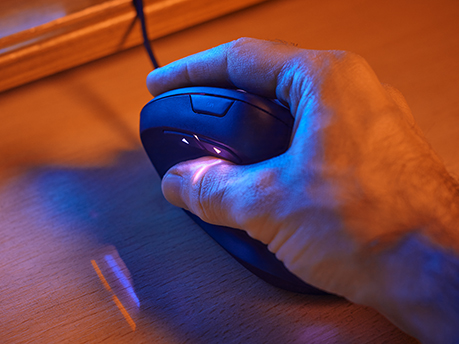 Hardware Accessories
Whilst most of us can get by with a basic controller, game pad or mouse, once you install and use a dedicated gaming mouse or keyboard, you'll wonder why you waited so long!
With ergonomic features built in, gaming mice allow for precision, support and reliability whilst playing. Wrist support is important, and a mouse and mouse pad that supports proper hand placement can be hugely beneficial for long gaming sessions or streaming schedules.
Keyboards can also be swapped out for an ergonomic option, or customised with integrated lights and key colours. Whilst an inbuilt headset microphone is good enough for general gaming use, a desktop microphone can add professional flair to your recordings and interactions.
Once you have everything together, it's time to setup your gaming station, and keep it tidy and in top shape! There are a few things you can do to optimise your setup and make it work great for you, such as cable management, connectivity upgrades and angle/height adjustment.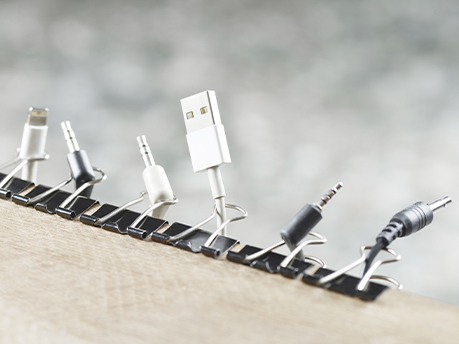 Cable Management and Upkeep
With gaming devices, monitors, external drives and accessories, the amount of cables and adapters can quickly mount up! HDMI cables, ethernet cables and USB cables are all key parts of a gaming station. Proper cable management is essential in keeping your gaming setup and gaming gear tidy and in great condition. Some gaming desks feature integrated compartments for cable management, but you can also make use of cable ties, Velcro straps and plastic tubing to keep cables organised and out of sight.
Keeping your gaming station clean and free of dust is important for maintaining the performance of your devices. PC's can be especially prone to collecting dust, especially if you open the casing to upgrade components.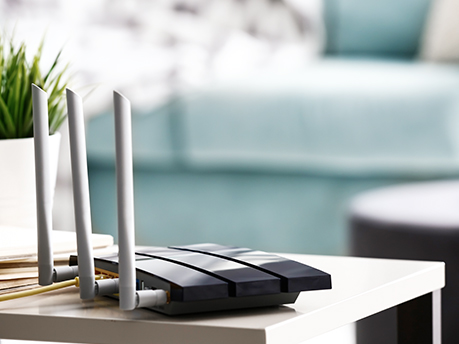 Connectivity Upgrades
You'll need to consider connectivity and external peripherals such as external hard drives, or cameras. Whilst wireless connectivity is convenient and somewhat cable free, many gamers choose to setup a hard-wired connection via a network splitter. This allows for multiple devices to be hard-wired at once, using the same router. Perfect for multi-functional work stations and gaming setups!
External hard drives are becoming increasingly important as game files become larger and more complex. Whilst PC's can be upgraded internally, with large internal hard drives often being standard, gaming consoles are constructed with a limited amount of internal storage space. Using external drives, you can store larger game files, recording data or personal files, keeping your device running smoothly.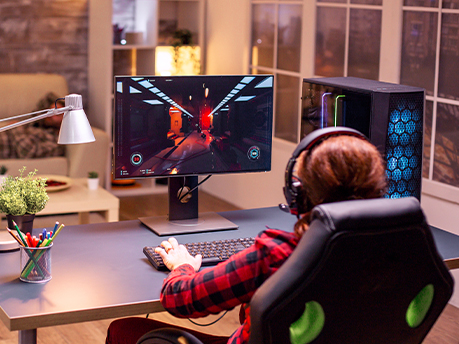 Angle/Height Adjustment
Ergonomic furniture allows you to adjust almost all aspects. From desk height and lumbar support, to neck rests and seat angles, make sure to optimise your gaming station to your exact requirements. Monitors can be adjusted to maintain an angle that prevents neck strain, whilst some desks can have their level and angle adjusted to maintain proper posture.
You don't want to be reaching too far for your mouse or controller, but neither do you want to be sitting too close. Make sure you select a healthy sitting posture, such as in our handy guide. Sitting improperly can lead to poor lifestyle or even injury! You also want to ensure that your ergonomic setup aligns with any recording equipment you may have set up, such as a camera.
All of this is just a guide. Remember - your setup, your rules! Whatever your budget or space limitations, you can create an effective and comfortable gaming setup. Accessories and additional upgrades are just that – optional extras! The most important things to remember are to create a comfortable and engaging space, to make it work for you, and to include healthy posture, lifestyle and ergonomic choices. Let's play!