Screen size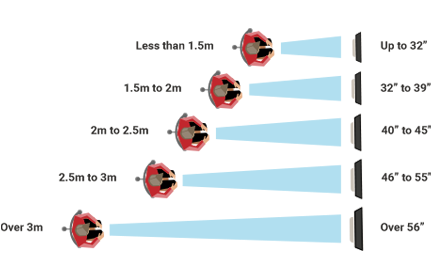 The size of your screen is measured from one corner to another, excluding the bezel. Due to thinner bezels, screens can be larger without taking up more space.

It is best to determine the size of your display depending on the distance between the screen and the viewers. In the end, you will have to choose your display based on your needs and preferences.
---
Picture quality
The quality of your screen's picture depends on two different aspects:
Resolution: the number of pixel within your screen. The higher the better, as this will give more detail to an image.
Processing rate: this measure defines the speed of processing an image on your screen. Again, the higher the better - the images become smoother and time lags will be reduced. This is ideal for sports, fast moving images or movies.
Some premium models upgrade the image to a quality close to 4k. Ideally the content has to be taken on a 4k camera to get the best possible outcome.
Full HD – 2 million pixels (1920 horizontal and 1080 vertical)
4k Ultra HD – 8 million pixels (3840 horizontal and 2160 vertical)
---
Technology
Screen technology referring to how the pixels are lit and create colors as well as contrasts of images.
---
Smart TV
In addition to receiving standard channels, a Smart TV allows you to browse applications and access online content by connecting it to your home internet connection either via WiFi or with an Ethernet cable. Through the homepage of your device, you will be able to stream videos or simply share content from one device to another. Different devices can be connected to your Smart TV, depending on the model and technology applied. They mainly allow you to connect to your smartphone, laptop, and tablet or apply Smart keyboards or a Smart remote for instance.
---
Soundsystems
TVs and most screens have a great sound system already built-in, but increased demand for innovative screens and improved picture quality has led to neglected sound systems. A great solution to this is to invest in an additional sound system such as a sound bar or home cinema system.
---
What you might also need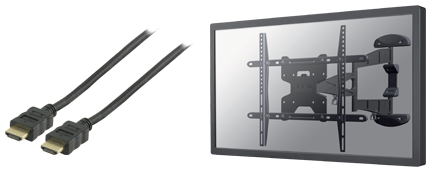 Mounts and cable management
For a clean and modern outcome it is recommended to properly install your device by using mounts and cable management to hide all cables. Please check upfront if your wall is suitable for the solution you would want to go for. Cavity walls for instance are not able to handle the weight of such a device.

You will find our range of mounts here and our cable management can be found here.
Most cables are directly delivered with the TV, but in case you need additional cables check out our full range here.