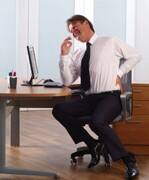 Changing Bad Habits
Does this look familiar to you? We're all working longer, with most people spending a large portion of their day staring at a computer screen - be that in the office, at home or the move. Whilst we now can't do without our computers, laptops, tablets and mobile phones in our lives, we can do something about the bad working habits associated with them that are causing so many health problems. Have you been aware that a staggering 75% of European businesses are not fully aware of their legal requirements regarding Workstation Risk Assessments?
(Arkenford Research 2014)
The Ideal Office
Increasing flexibility around working needn't risk reducing workers comfort, health and wellbeing. True flexible working shouldn't fall short of fitting around the individual and compromise realising maximum potential and productivity. The location and environment of the modern workplace may be ever-changing but the individual is constant - and the perfect workstation, wherever it may be, should still be designed to fit around them.
---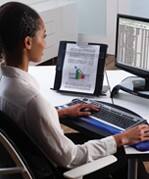 Personal Desk
Unbelievable, but true: 85% of European organisations report use of make-shift ergonomic solutions
(Arkenford Research 2014)
Like the vast majority of people today, Leah spends over 7 hours a day working at a computer. It's therefore essential to have a desk layout that meets her specific needs to ensure she's comfortable, productive and healthy. A complete workstation solution offered by Office Depot is designed for employers who know that healthier employees will come to work, perform at their best and go the extra mile.
Do you work at a fixed location? These products will help you…
---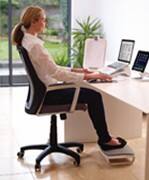 Home Worker
25% of European workers mainly work from home.
(Dynamic Markets Research 2012)
Improve the home working environment with an inspiring range of smart looking ergonomic solutions – such as the new I-Spire™ Series, boasting both comfort and style for the home office. Where space is at a premium and flexibility is key, Fellowes range of ergonomic products not only look good but perform superbly for working around the home and in the home office environment.
Do you have a home office? These products will help…
---