Skip to Content
Skip to Navigation
What prices do you want to see?
Private customer
When you are a private customer, you can show all prices inclusive VAT.
Show incl VAT
Business customer
When you are a business customer, you probably can reclaim the VAT.
Show excl VAT
What is Protection plus?
Protection PLUS offers you the benefit of added security and peace of mind on all of your office supplies purchased from Viking.
It provides you with a 12 month no quibble returns policy, for a small extra charge.
To take advantage of Protection PLUS a small nominal charge will be automatically applied to your order.
If you would like to make a change in the use of Protection PLUS, you can deselect or select it. 
Go to, My Account, and click on the "pencil button" next to "Payment details".
Tick "Viking account". 
There is a drop-down where you can put a check mark in the box in front of 'Yes, I want the added security of 12 months accidental damage cover or the extra protection of a 12-month returns policy.' and click on 'Save changes'. Or if you do not wish to make use of it, you can untick it.
It is also possible to do this in the checkout at step 3, Payment Method.

Example: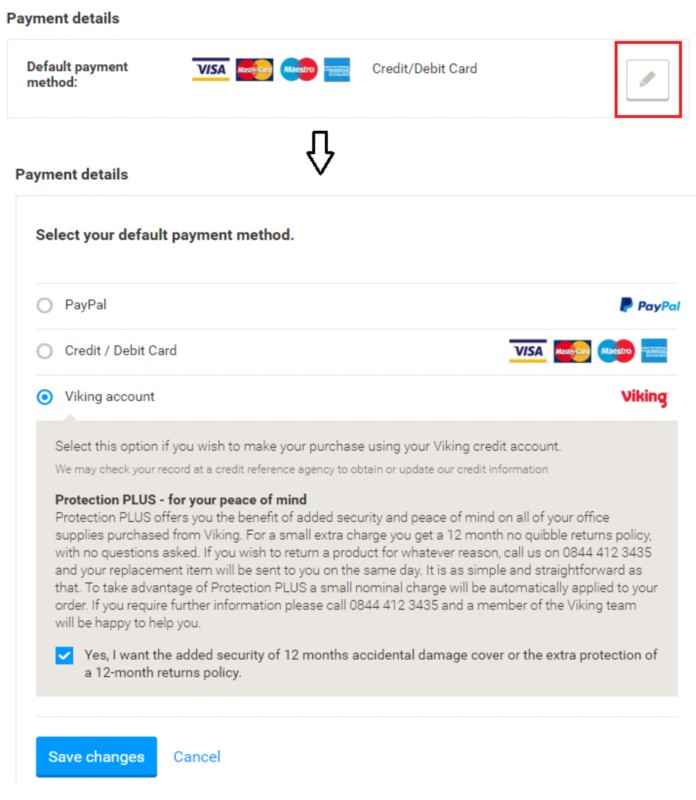 Please note: When you pay with Credit card or PayPal, the Protection Plus will automatically be removed from your order.