Save 90%

on the cost of Ink*¹
1. How does it work?

An EcoTank printer is fundamentally different to most printers – it features a large ink tank that you fill with the included ink bottles instead of cartridges. From the start you have enough ink to print up to 14,000 pages – that means both money and time are saved as you're not frequently changing cartridges.

2. Save money time and effort

Go longer between refills with EcoTank. The included ink is equivalent to 88 cartridges - that means replacements are few and far between. The visible ink levels also show when it's finally due for a refill.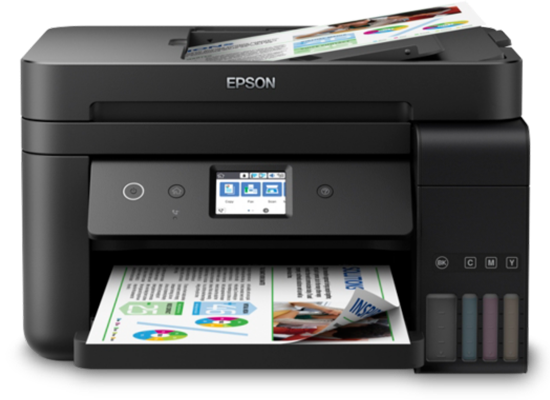 Ecotank ET-4750 Colour Inkjet All-in-One Printer A4
Get it now
Discover our whole Epson Ecotank Range ›

Find your

compatible Ink Bottles View all
*1 Average number of cartridges/savings for printing the number of pages using the bundled ink bottles with the EcoTank range, excluding hardware price. Comparison made on the average of the A4 EcoTank range versus the average of the top 10 best-selling models in Western Europe, in the period January 2017– December 2017, as tracked by GfK. Printing costs calculated on the proportion of Standard and XL cartridges as tracked by GfK for the same reference period for the Western European market, using average retail prices. Ink cartridge yields as communicated by the manufacturer's websites. 2. Quoted yields are extrapolated based on Epson original methodology from the print simulation of Test Patterns provided in ISO/IEC 24712. Quoted yields are NOT based on ISO/IEC24711. Quoted yields may vary depending on the images that you are printing, the paper type that you are using, the frequency of your prints and environmental conditions such as temperature. During the initial printer setup, a certain amount of ink is used to fill the print head's nozzles, therefore the yield of the initial bundled set can be lower. 3. Determined in accordance with ISO/IEC 24734 showing the average of ESAT from the Office Category Test for default simplex. For more information visit www.epson.eu/testing 4. Requires a wireless connection to the internet. For more information, supported languages and devices please visit www.epsonconnect.eu